MOTION LANDSCAPES
1. Future challenges for sports clubs1):
Demographic change
Change in values
Changes in consumer behavior
Changes in social behavior

1) See http://www.sportverein2020.de/

Sports clubs have to answer these questions:
Are you seeing declining membership numbers?
Are you affected by an increasing average age?
Is it increasingly difficult to attract and retain young club members?
Can volunteers and officials still be found?
Is there a lack of attractive offers for certain target groups?
Will sports grounds and sports facilities be closed in the surrounding area
Do you feel competitive pressure from other sports and exercise providers?

Approaches:
New forms of financing such as crowdfunding, charity shopping, PPP
Networking in the community and cooperation with other institutions
Social media usage
Older volunteers
Cultural diversity and integration
New forms of offer:
Midnight sports
Cross-club courses and cooperations of clubs
Non-sports activities
Sports club center
Movement landscapes
2. Benefit: For what reason does it make sense to offer a movement landscape?
Attractive and extraordinary enrichment of the sports offer
Opening up new target groups:
Children (e.g. day care groups, children's birthdays)
Company sports groups
Seniors
Groups with mental or physical disabilities
Positive image and level of awareness of the association
Acquisition of new club members
Strengthening young talents
Profit center" as a new / further source of income:
Rental to groups
Single rental
Cross-selling": children in the movement landscape and parents doing sports
Operator: associations, municipalities and / or commercial operators
3. What makes a landscape of movement so special:
A movement landscape includes a variety of movement options that are not possible in the conventional sports halls
The schnitzel pit (a pit made of foam blocks) is the central element of every movement landscape
A movement level above the schnitzel pit forms a low-risk movement space at great heights
Caution because of the natural fear with high levels of movement forces slow and controlled movements
A competition trampoline with bungee longe enables complex figures in slow motion (also for athletes with special needs)
Missing exercise instructions awaken self-initiative, strengthen self-confidence, a sense of responsibility towards yourself and towards others.
The arrangement of certain climbing devices in connection with different levels of difficulty promotes athletic performance.
The actual gymnastics exercise is not perceived as such.
The different levels of difficulty of certain climbing routes inspire and arouse ambition
Caregivers can, if necessary, create new incentives to move and initiate or intervene accordingly if certain basic rules are disregarded.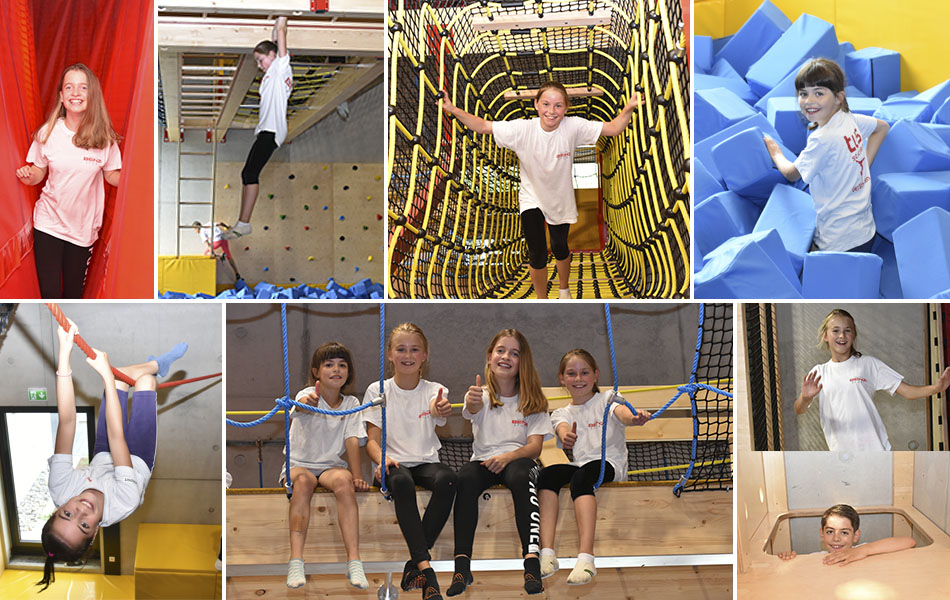 4. Recommended procedure for the realization of a movement landscape:
Definition of the possible target group
Creation of a rough concept, individually tailored to the needs of the operator (age structure of users, sporting skills, clubs, day care centers, etc.)
Involve experts from the Baden-Württemberg Accidend Insurance Fund
Include a sports equipment manufacturer already in building planning (raw construction)
Precise planning of the shell, planning of mounting rails, electrical connections, lighting fixtures, ventilation, heating, air conditioning
Construction-side static calculation of the installations of the movement landscape
Procurement / tender
Detailed planning of the movement landscape during the shell construction phase
After completion of the shell, erect a scaffold provided by the customer
Installation of the various systems of the movement landscape by the sports equipment manufacturer