- OPENS THE DOOR TO NEW WORLDS
- Interactive projection surface as a touchscreen




- Interactive 3D touch wall projector for sports clubs, schools and sports halls


- Playable with over 4 programs

The revolution in school education

The new generation of Lü

Lü - Interactive Playground

The wide-ranging Lü Applications Portfolio



Our team is passionate about designing compelling activities and tools kids are happy to engage in. All our content is developed using a rigorous approach integrating core
components of whole child development. Our methodology is based on the highest standards from the International Baccalaureates and leading research.
You can find further informations here.
The Lü Community

What is LÜ?
LÜ uses huge interactive projections and a thrilling light and sound system to enable revolutionary games and learning experiences. Various apps and games encourage children and adults to participate actively, curiously and passionately in this experience.
  
LÜ –
The display and interaction device for the sports halls of the 21st century
LÜ transforms traditional sports halls and exercise rooms into interactive playing fields. A first-class digital infrastructure and an extensive selection of exciting activities are used for this. In addition, you can use this infrastructure flexibly: Films can be played, presentations shown or traditional teaching material taught.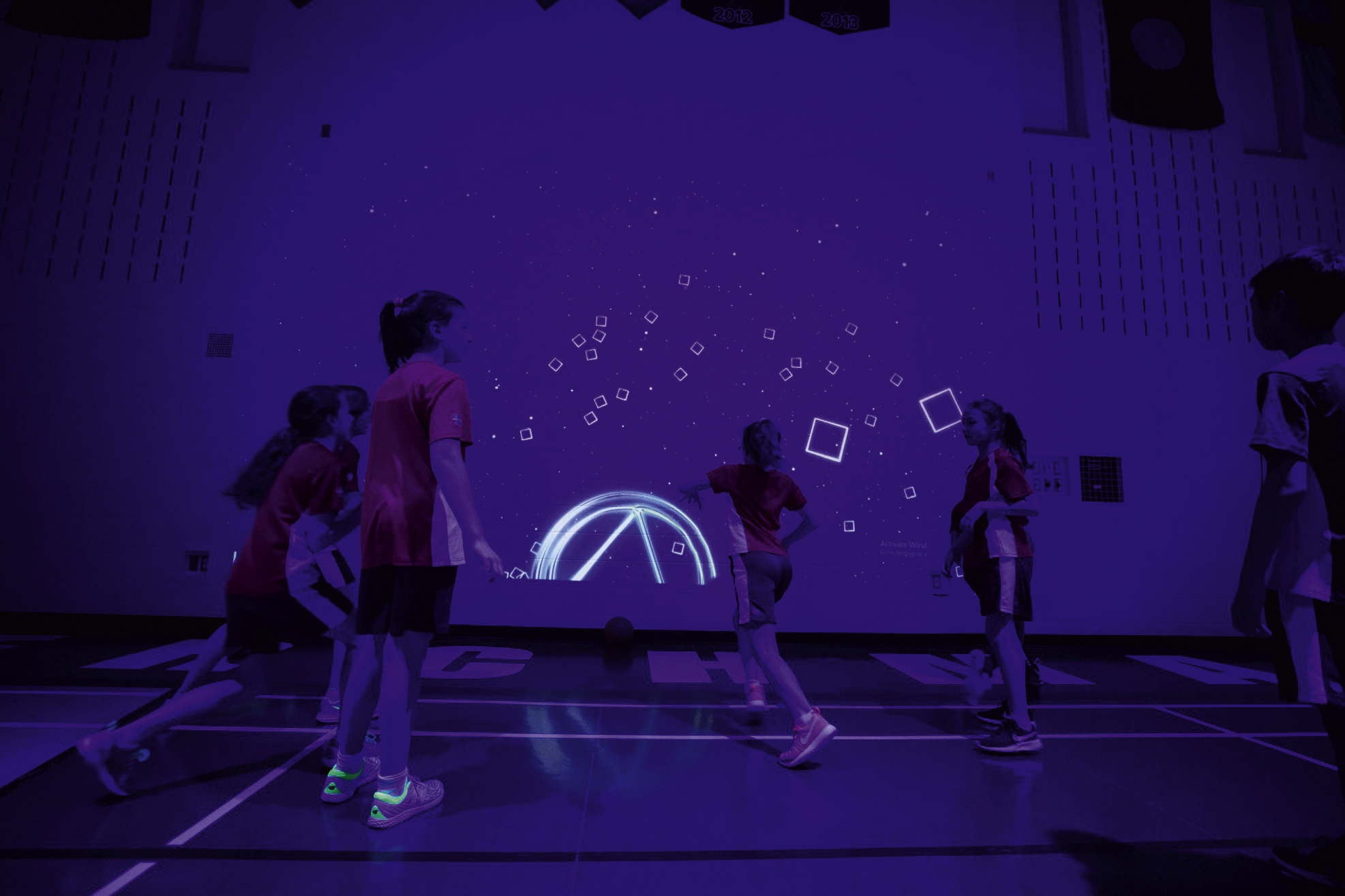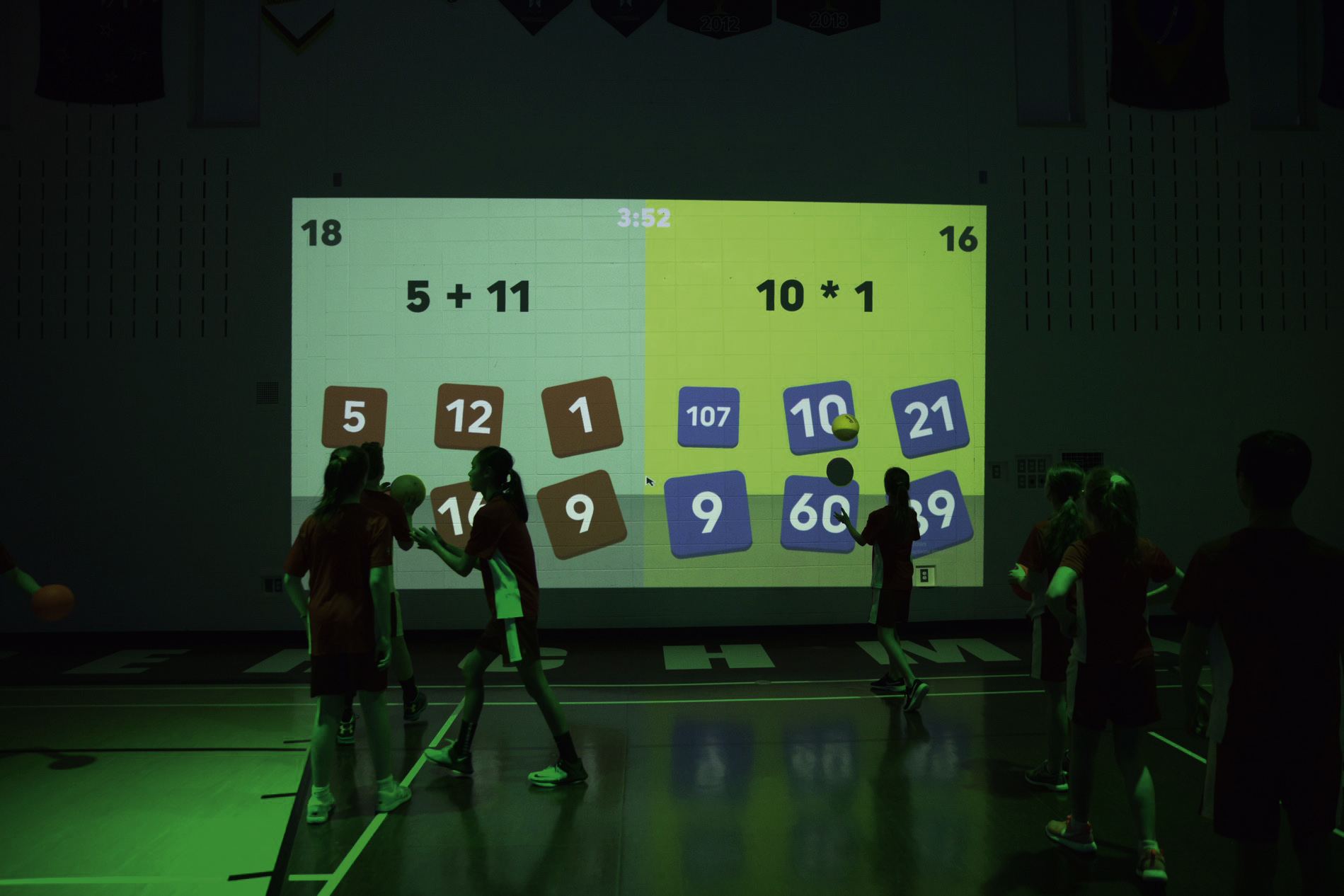 The potential of the size of the space in your sports hall or school can be completely re-opened in this way.
3 x possible options

Projection area: width 580 cm, height 330 cm
1. ÜNO
ÜNO consists of three prefabricated modules that are attached to the ceiling: camera, light and beamers including a sound show. 1 video projector, 1 computer, 1 video camera, 6 static lights (180 W), 2 computer-controlled lights, 2 speakers (1000 W), remote control with keyboard
2. DÜO
DÜO consists of two opposing ÜNO systems attached to the ceiling in order to create a larger gaming experience with more participants. 2 video projectors, 2 computers, 2 video cameras, 12 static lights (180 W), 4 computer-controlled lights, 4 speakers (1000 W), 2 remote controls with keyboard
3. MOBILÉ
MOBILÉ is designed so that it can be easily transported and set up in 20 minutes without any problems. The system is perfect for schools and clubs that want to be flexible. 1 video projector, 1 computer, 1 video camera, 6 static lights (180 W), 2 speakers (300 W), 1 remote control with keyboard
Possible uses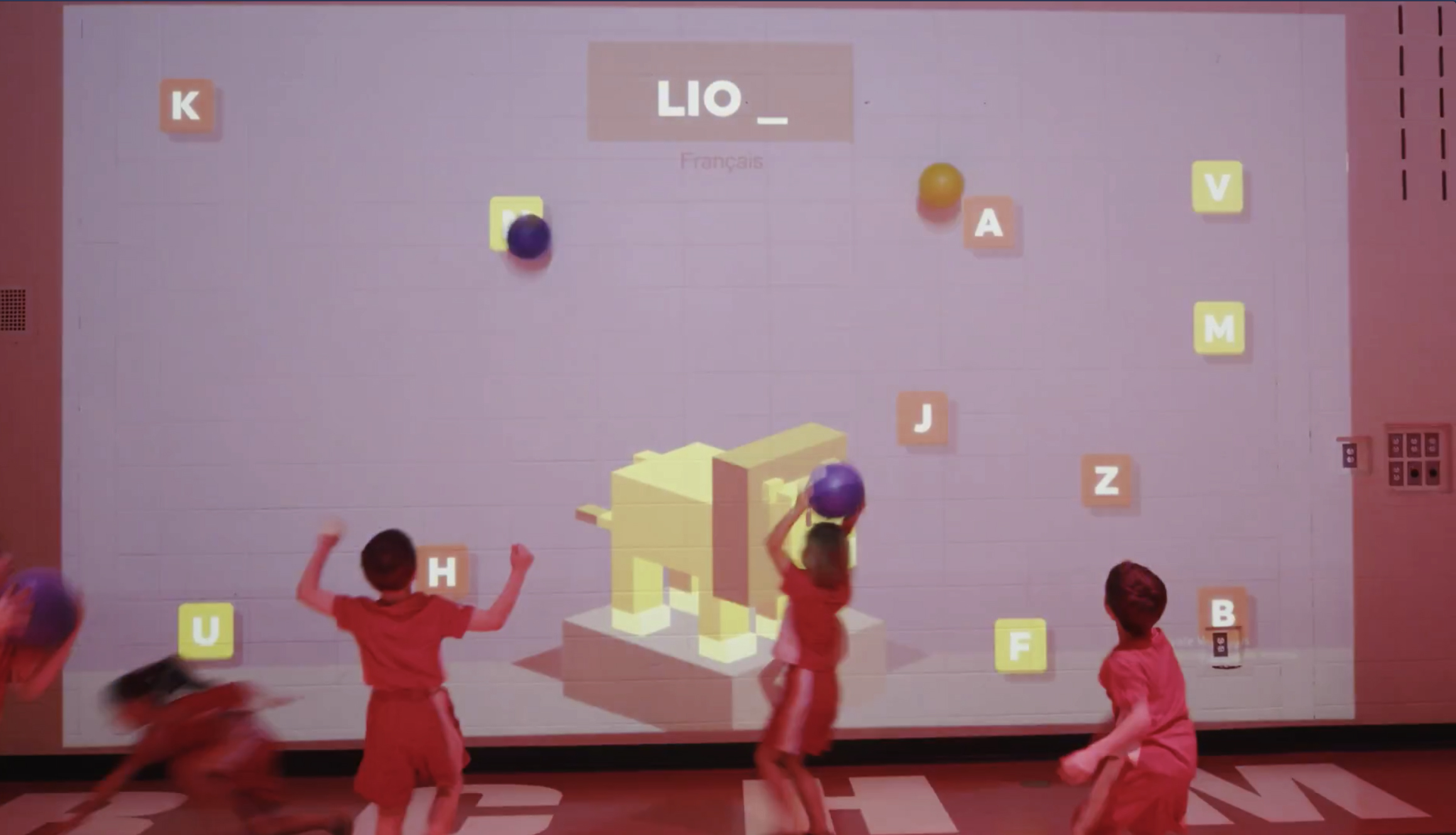 Here in the illustration, for example, the letter N is to be hit with a ball. The aim of the game is to complete a word. The system playfully combines learning and movement in the classroom.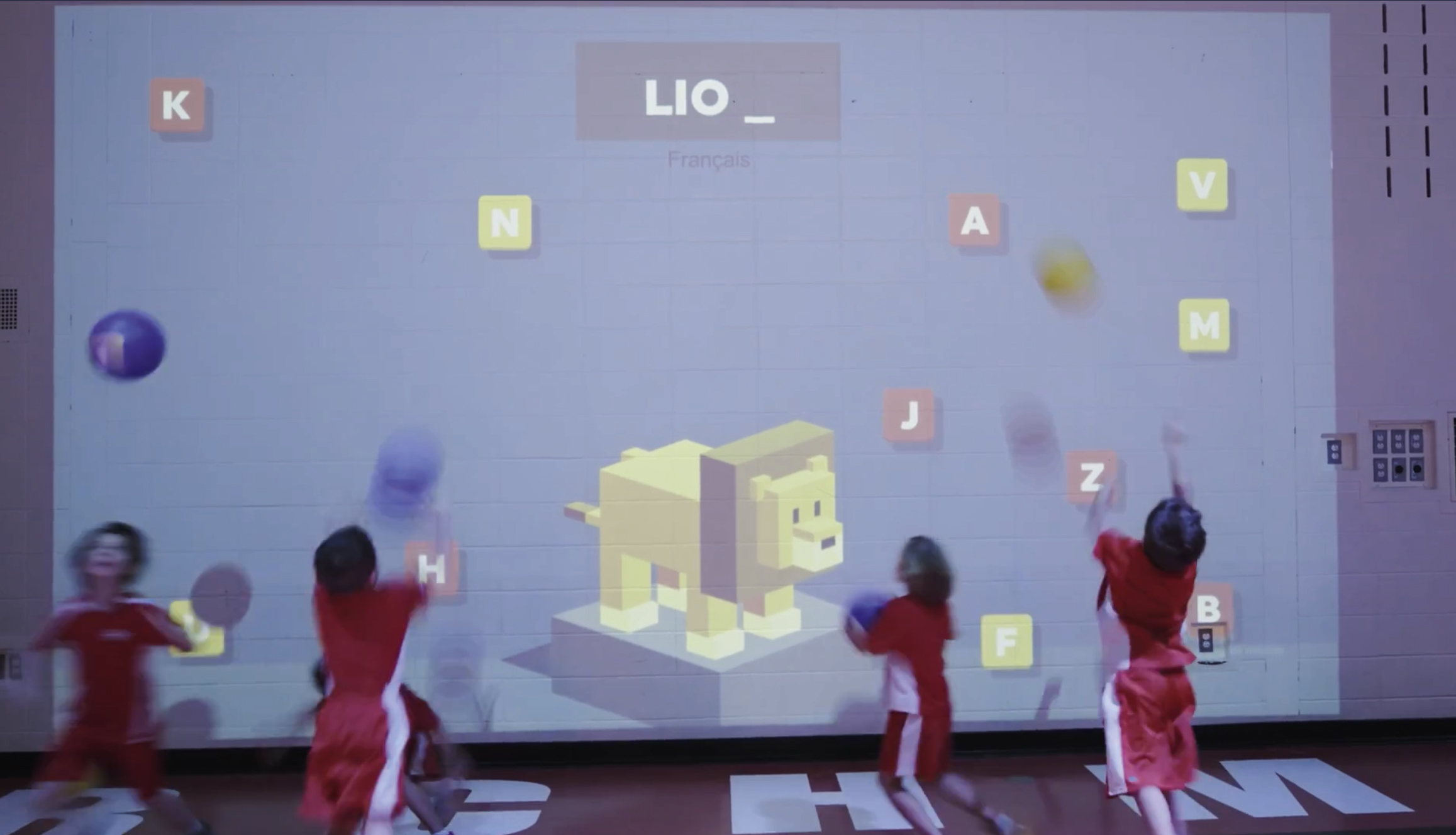 The letter was hit. The system recognizes the movements and hits of the players through a 3D camera. Thus it can determine the course of the game.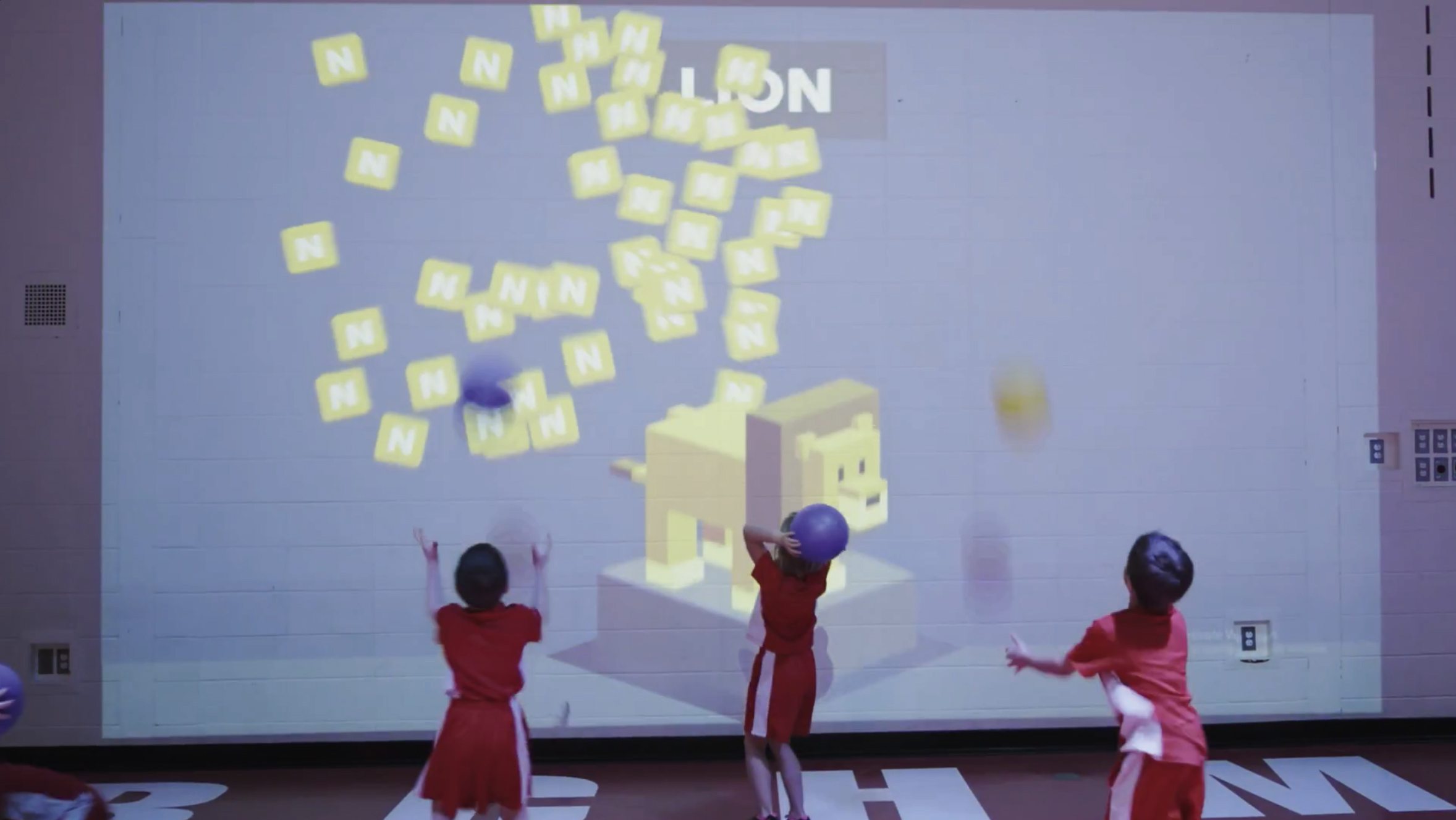 The projection of the game shows the children how successful they have been learning. The system can be equipped with a wide variety of educational games.
Have we aroused your interest and would you like more information?
LÜ-Flyer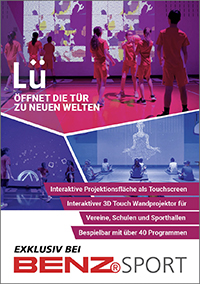 Feel free to contact our team at any time:
Phone: +49 7195 690588